The Business Case For BIM in Healthcare Facility Design And Construction
Hospitals can be said to be the most complex of common building types. Each hospital is comprised of a wide range of services and functional units. These include diagnostic and treatment functions, hospitality functions and the fundamental inpatient unit. Each of the wide-ranging and constantly evolving functions of a hospital, including highly complicated mechanical, electrical telecommunication systems requires specialized knowledge and expertise, both in design and construction. No one person can have a complete knowledge of the whole, which is why specialized consultants and contractors play an important role in hospital design and construction.
This article introduces the reader to Building Information Modeling (BIM), and its ability to enhance savings during design and construction of especially a hospital project. This includes the investor/developer, architect, engineer, contractor, and other stakeholders. A Building Information Model (BIM) is a shared information database, an interactive blueprint with the capacity to shape a facility from the ground up and from the inside out, floor by floor, system by system – in effect a fully detailed 3 Dimensional model of the Hospital constructed on the computer screen. This database is shared between the designers, the project schedulers, the cost control group, the inventory control group, and others as required. The heightened level of collaboration generated by BIM streamlines development, which in turn drives efficiency and results in owners receiving more value out of their facility investment – a key lean construction practice.
When we say "Business Case", we perceive it as "ability to enhance savings and hence profits".
Let us look into the design phase. Firstly, BIM assists the designer to create a lean design, without keeping provisions for "virtual quantities", or using a higher factor of safety. The designer can visualize the structure with clarity and eliminate redundancy. Secondly, since the designer can clearly see the virtual hospital on the computer, he can 'walk through' the model and enhance functionality of each department of the hospital, and thus reduce operational costs. Design time is also reduced, cost estimates are streamlined and most importantly, costly rework during construction is eliminated.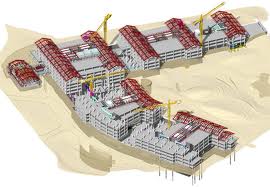 You might ask, how can rework during construction be avoided by design? There is always some rework. Using BIM we can analyze constructability and significantly improve co-ordination with the 3D model. Many clients report this is where the "A-ha" moment occurs. When the design team meets with the sub-contractors in their weekly meeting, it becomes much more productive if you can "ask the model questions" and pose what-if scenarios.
So if you solve 300 clashes at an average value of Rs. 1,00,000/- a piece, you are saving a serious amount of money. And also you will save on rework, re-fabrication and the smooth work of crews, so you save money on the scheduling side of the equation too.
Reduced time for construction means substantial saving in construction costs. With BIM, we can schedule the project construction, and monitor it with more accuracy. To control costs, we can monitor material, manpower and equipment availability periodically, based on the project schedule, and ensure best utilization and minimize wastages. We can reduce idle manpower at site.
Let us take a live project of a hospital constructed using BIM modeling. The challenge was to design and construct a large 400 bed hospital within a time period of 4 years from start. The traditional time frame would be 6 years from date of start of design. Taking statutory approvals was also part of the scope which traditionally takes 6 months. The budgeted cost was also tight at 20% below traditional estimates.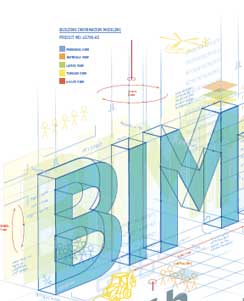 The project director decided to adopt BIM for all the three phases – design, approval, and construction.
The design of a hospital is relatively complex due to the various facilities which need to be
incorporated, especially the mechanical, electrical and the plumbing works and their co-existence withthe structural elements. The overall design has to be synergistic taking into consideration the interrelationship of various departments. This helps in smooth operations and user-friendly facilities. The design for this hospital was based on a BIM model created after bringing together the design and construction experts, the equipment specialists and experts for fire fighting and other utilities, the users– doctors, nurses and others involved in the project. The chances of any hitches during construction, resulting in re-work, changes in design, and escalation of costs, was thus minimized.
This resulted in a cost effective and technically and architecturally superior design.
Since the 3 Dimensional BIM model – virtual Hospital – was available, statutory approvals were obtained in 3 months, as against a traditional time requirement of about 6 months. The answers to their queries were visually available to them and could be explained easily.
During the construction phase, the work breakdown structure, work scheduling, resource planning for manpower, material and construction equipment, inventory and procurement planning, cash flow, technical inspection checks, etc. were all planned based on the BIM Model. With BIM, it was possible to do off-site prefabrication for various components, thus reducing site works and time. Wastages were also minimized. Rework on MEP was also practically eliminated.
The project was completed within the target completion time and the reduced budgeted cost. This was possible due the early integration of all elements of the design and construction process. On completion, the project director commented – " Setting up a project this way is incredibly rewarding and it creates a good morale around the project. It was a hard and challenging project, but that's because the work was hard and challenging, not because a traditional contract encourages you to fight
all the time. This proved to be a much healthier environment for people to work in ".
What, then, is so special about this software based project management and construction? We have already discussed some of the advantages of the 3D model. This 3D model is built by receiving the architects drawing/model in Revit, the structural model in Tekla and the MEP model in ArchiCAD, which are integrated into a single building model using a software platform called Vico.
Beyond 3D modeling we have 4D scheduling and optimal sequencing of tasks and trades. Flowline scheduling is used to enable this optimization process with a model based schedule. It isn't really rocket science, it's just common sense, but if forces the optimal sequence and flow of trades through the various locations of the hospital project.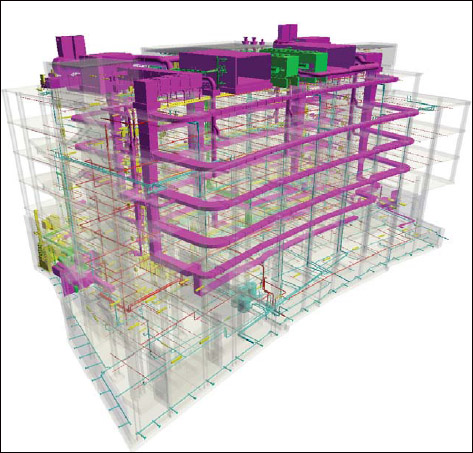 A 4D schedule is a visual tool that is created by linking each entity in a 3D model to its corresponding schedule activity to produce a simulation of the construction process over time. This enables visual phasing, sequencing, clash detection between trades and site logistic planning. During construction one of the biggest concerns a healthcare provider has is whether or not the scheduling milestones have been met. 4D scheduling allows for a side-by-side comparison of planned versus actual progress and makes schedule problems easy to identify and resolve.
A flowline schedule lets you visualize the crews by location and by productivity rate.
If you can organize the schedule such that trades can "work through" the entire building without stops and starts, you can imagine the better pricing and quality you'll get.
BIM also enables 5D estimating, which starts with a robust construction takeoff. With these construction quantities, we can derive a precise estimate and schedule. And with the easy visualization of the model, you can quickly see which elements have been costed already, and which elements still need attention. Also, it allows owners to see which/how various areas of the building are contributing to the total cost of the building.
A 5D cost estimate is a 3D model that is linked to a construction cost estimate through material quantities that are automatically generated from the figures and data built within the model. BIM is thus enabling better budgeting and calculation of cost impacts thus enabling general contractors to help owner clients make better design and value engineering decisions quickly. As an architect, it is very beneficial to be able to tell a client the price difference between a regular 3 foot door and a 4 foot larger lead lined door, or perhaps how much money it will cost them to install upgraded finishes.
And BIM does not stay trapped in the corporate office! As the project moves from design to the site, the BIM moves with it. Just by selecting points within the model and transferring them to the Trimble LM 80 (computer hardware…) they can be laid out on the field with the help of the Total Station. (more computer hardware…) Conversely, construction intersections from the field can be plotted and laid over the BIM model to determine tolerances and check for errors.
So we have given you an overview of BIM and it's various desirable features. Now why is BIM especially suited for healthcare projects? What makes healthcare different from other architectural design and construction processes? Firstly its complexity, then its volume and also its criticality. In the coming years, India is going to see huge amounts of resources spent on the healthcare sector, which includes the construction of healthcare facilities. How can BIM help healthcare design and construction?
First, during the site survey and renovation phase, laser scanning has been developed to a point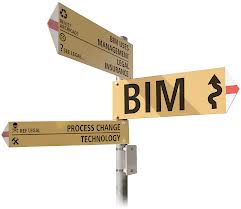 where a piece of equipment has the ability to scan millions of points within a space. The information can then be used to accurately draw what the existing space looks like. This highly precise data collection tool has the ability to create a very complete as-built record.
Secondly, during the design phase, we have the benefit of enhanced visualization. During schematic design and design development phases a 3D model can accurately assist a physician in seeing what the facility looks like. For example, a physician will be able to envisage where each piece of equipment is located and if they are better suited in a different location, how large or small the rooms will be, and so on. He/she can also visualize how the general work flow within the clinic will operate once occupied.
Thirdly, we have already read in great detail the advantages of BIM during preconstruction and construction stages. By using integrated design processes and bringing in the various consultants
early on into the design process, there can be substantial cost savings. In this aspect, BIM goes hand in hand with sustainable design.
Finally, post construction the BIM model continues to provide benefits. By using the model correctly during the other phases, a designer has most likely reduced the life cycle cost of the facility, as well as its carbon footprint. In addition the BIM model can help the long term maintenance of the building.
So what are all you healthcare providers out there waiting for? Go for BIM!
Bibliography:
The Business Value of BIM in North America: Multi-year Trend Analysis and User Ratings (2007 – 2012), McGraw Hill Construction.
www.vicosoftware.com website