Introduction
Many people – caregivers, architectural and design professionals, and patients, regard intensive care (critical care) units as the heart of the hospital. Here a seriously ill patient can expect the maximum of care: the very best the hospital has to offer in terms of personnel and technology.
Intensive Care Units (ICUs) are specialty nursing units designed, equipped and staffed with specially skilled personnel for treating very critical patients or those requiring specialized care and equipment. Centralizing the acutely ill patients, as is often done, in contiguous units in an intensive care complex consisting of surgical-medical intensive care unit, coronary care unit and specialty units such as renal and burn units, results in multidisciplinary care and economical use of the space and equipment.
Intensive Care Room
Arrowhead Regional Medical Center, San Bernardino County, California
(Architects: Bobrow/Thomas and Associates)
Location
There is no unanimity among the medical and nursing experts as to where the ICU should be located. There are two schools of thought. One suggests that the ICUs should be in a centralized place and be contiguous with, or readily accessible to, one another. The argument is that patients admitted to the medical-surgical intensive care unit may have, or suddenly develop, cardiac complications. Having intensive care facilities in a centralized place allows the specially trained professionals and equipment an almost instant access to patients in all clinical services when an emergency develops. Such an arrangement also eliminates the need for duplication of costly equipment and personnel.
The second school of thought favors that the location should be dependent on the type of patients. For example, the surgical ICU should be close to the operating rooms while the medical ICU should be in close proximity to the medical ward to facilitate following the concept of progressive care. That is, the patient is moved from the intensive care unit to intermediate care or step-down unit, and then to the general patient care area.
Whatever its location and adjacencies, the intensive care unit must exclude through-traffic.

Relationships with other Departments
Intensive care units should be close to emergency, Operation Theater Suite, Respiratory Therapy, Laboratory and Radiology. Most admissions to ICUs are either through the emergency department or from the operating rooms following major surgery. They should not be too far away from general nursing units, as patients may need to be transferred in an emergency. They should be close to vertical transportation cores. They should be away from heavy traffic and noise. The electrical influence of equipment like elevator motors and X-ray equipment on the displays of monitors should be kept in mind. Accessibility and direct visual contact between patient and nurse is important. The patient should be close enough to permit observation of respiration, facial color and other revealing symptoms.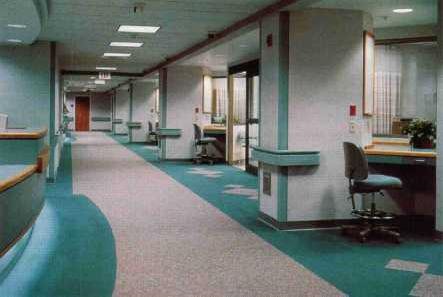 Morton Plant Hospital, Clearwater, Florida.
(Designers: Obrentz Design Group)
TRO – The Ritchie Organization located stations outside each ICU room to monitor patients closely.
Sizing Considerations
It is generally recognized that for effective operation, there should be no more than twelve beds per intensive care unit. Twelve beds is seen as the upper limit of what an ICU nursing staff and station can adequately monitor. An intensive care unit of less than six beds is clearly uneconomical.
This guideline of twelve beds maximum will become decreasingly significant as ICU's incorporate bedside computers that enable "paperless charting" and direct recording of vital signs through monitoring devices. Such technology will encourage "decentralized nursing" which will allow nursing staff to spend less time at a central nursing station and more time in patient rooms and at mini-work stations directly adjacent to these rooms.
As to the rooms themselves, the American Hospital Association (AHA) minimum is 150 square feet per room. This may be adequate for non-critical patients, but it is too small for patients on life-support and monitoring equipment. The task force on Guidelines of the Society of Critical Care medicine recommends 150 to 200 square feet in open units, while private patient rooms should contain 225 to 250 square feet. The ICU patient room should be planned to facilitate operations in the event of a crisis.
The beds should be located permanently away from the wall, to give staff a 360-degree access to the patient.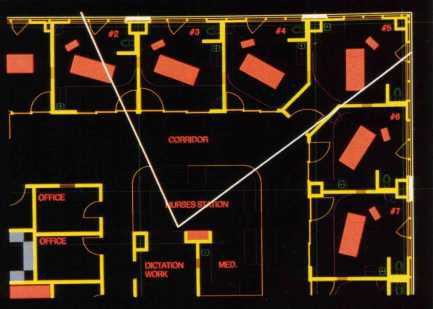 Centennial Medical Center, Nashville, Tennessee
(Architects: Earl Swensson Associates)
For the Center's ICU unit on the fourth floor, the architects used a computer simulation to lay out the unit. The white lines from the
nursing station indicate lines of sight to each patient's head.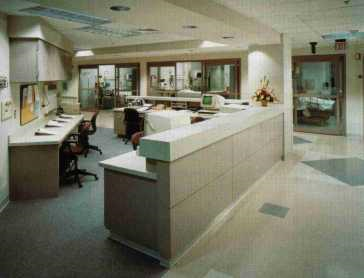 Lynchburg General Hospital, Lynchburg, Virginia
(Architects: Earl Swensson Associates)
The design of the Surgical Intensive Care Unit allows the nursing staff to observe the patients in their care without leaving the workstation.
Technology and Humanity: Design Priorities
It is alarming to review the substantial literature that now exists on intensive care units of the recent past devoted to how the environment of the intensive care unit can adversely affect patient health while simultaneously increasing stress and fatigue among the physicians, nurses, and nurses, and others who work in these areas. The fact is that many ICU's and CCU's – are literally – sickening.
In most ICU's, the focus is not so much on the patient as it upon a disease or disorder, as if the procedures necessary for sustaining life in the physical sense were somehow incompatible with simultaneously sustaining emotional well- being. The assumption seems to be that the ICU patient is either unconscious and unaware of his surroundings or too sick to care about them. The issue is that emotional health cannot be neatly isolated from physical health. The machinery makes many patients feel invaded and helpless. The sense of claustrophobia created by packing monitoring equipment, respirators, and IV delivery equipment into a small space can dramatically increase anxiety levels.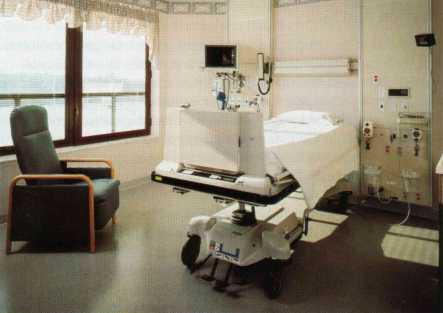 Lynchburg General Hospital, Lynchburg, Virginia
(Architects: Earl Swensson Associates)
Patient rooms in the SICU minimize the institutional feel of a necessarily heavily equipped high-tech room. The room is filled with natural light from the windows, and chairs invite visitors to give companionship to the patient.
Windows are all too often absent from intensive care unit design. Not only does this heighten the sense of claustrophobia inherent in these technology-packed areas, but a number of studies have demonstrated that patients in windowless rooms are subject to temporal dislocation and even subject to "ICU psychosis", which is characterized by delirium, hallucination and delusions.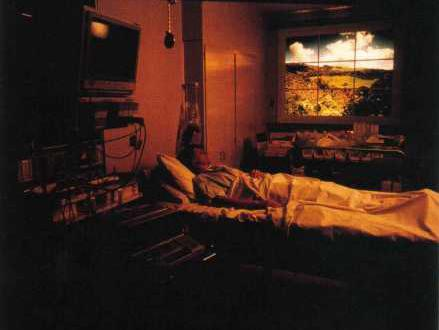 Stanford University Medical Center, Palo Alto, California.
(Courtesy: Art Resarch Institute / Joey & Janet Fischer)In the Cardiac Transplant ICU, the electronic window simulates a constantly changing view of the outdoors. The installation offers the patient visual stimulation in a room that often cannot be placed on an outside wall.
Harsh lighting, especially from fluorescent fixtures often aggravates the disorienting effects of windowlessness, and by lighting that is not dimmed to correspond to the body's circadian rhythms. Sleeplessness is a common problem in intensive care units, and it is not only due to lighting, but also to the remarkably high level of noise that prevails in many of the older units.
Excessive noise is particularly stressful for cardiac patients, who exhibit increased cardiac workloads and arrhythmias in noisy environments. In addition, pain perception is heightened by the presence of excessive noise. There are more diffuse negative responses reported by patients, including a sense that they could not "escape" their environment; a general and anxiety-provoking sense of unrelenting urgency in the environment; sensory deprivation; crowding; and loss of privacy. Many related feelings also affect those who work in the critical care unit, leading them to depersonalize patients.
All of these responses can at least be mitigated by design solutions.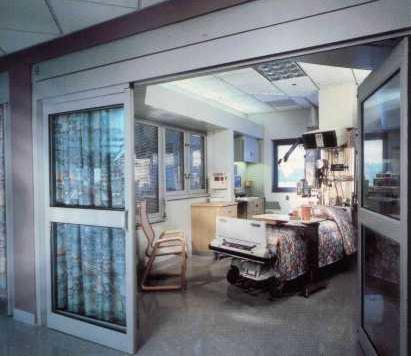 Intensive Care Room
St. John's Regional Medical Center, Oxnard, California (Architects: HKS Inc.)
An attempt has been made in this ICU room to personalize and thus de-institutionalize the space.
Technology and Design: Achieving a Balance
While emphasizing the human aspects of ICU design, the intention is not to denigrate technology. Not only does medical machinery save lives, it has the potential of actually humanizing the relation of caregiver to patient by saving staff time, for example in the automatic recording of data, enabling the time freed to be used to be in contact with and treating patients. The development of "bedside laboratory" technology can be employed to assess blood gases, electrolytes, glucose, and hemacrit suing a very small blood sample – 0.5 ml – in less than ninety seconds.
Good design can do much to accommodate the machinery while keeping it out of the way. Particular attention should be devoted to the headwall, which, especially in the intensive care environment, bristles with connections for medical gases, suction, electrical power, and terminal hook-ups. Consideration must be given as to whether the hook-ups should fan out from the patient to the headwall, whether they will converge at a power column, or run to an overhead rail system. In general medical-surgical patient rooms – and even in some critical care facilities – attractive casework can be used to hide all or some of the hook-ups in the headwall.
The choice of headwall, power column or rail system is in large part determined by the layout of the room (especially the orientation of the bed), which, in turn, is a function of overall unit design and the need to balance the demands of technology, accessibility and privacy. The starting point for the layout of the room is the orientation of the bed. From the point of view of the nurse, the bed should be situated to allow ready observation of the entire body, especially the head. Tradition dictates that the head of a bed be against a wall, and certainly, headwalls accommodate readily to this approach. However, in a crisis, it is often essential to have access to the patient from all four sides. Certainly, the bed can be pulled quickly out from the wall, but tubes and monitor leads may continue to inhibit access or may even present a trip hazard. Some architects have proposed a partial solution to this in non-square rooms or rooms with one angled wall, meant to increase clearance around the bed (and to give the room greater sensory interest to the patient). However, a similar approach is to treat the bed as an island. An example of this is the intensive care unit at Centennial medical center in Nashville, designed by Earl Swennson Associates. The rooms are square, but the beds are placed diagonally in the middle of the room adjacent to a power column. This allows 360-degree access to the patient.
Specialized Intensive Care Units
An Intensive Coronary Care Unit is used to identify the units restricted to patients who are suffering from cardiac emergency conditions. Patients are transferred from here to an intermediate care section, which ought to have twice the number of intensive area beds. A Pulmonary Intensive Care Unit (PICU) is a major key in a comprehensive pulmonary care program for chronic obstructive lung disease. A laboratory for around-the-clock determination of arterial blood gases immediately adjacent to the PICU is required, since these patients are very unstable. A logistic delay due to laboratory remoteness or unavailable technical assistance is not acceptable. Neurovascular or stroke cases are admitted predominantly from the emergency department. In a Burns Care Unit two phases of the burns illness – the shock period and the healing period – have to be accommodated. Complete reverse isolation can be a significant factor in the prevention of bacterial contamination of individuals incurring major burns injuries. For maternity patients with complications and particularly for those in premature labor a special ante and intra-partum unit also referred to as an obstetric or labor or maternity intensive care unit can be provided. In conjunction with this, a Neonatal Intensive Care Unit (NICU) can be provided, which is an intensive care nursery which provides the best chance of saving life and of improving physical and developmental status for survivors of serious perinatal illness.
These and other specialized units are discussed in greater detail below:
Intensive Coronary Care Unit
After the surgical- medical ICU, the Intensive Coronary Care Unit (ICCU) is the most commonly found critical care unit in the hospital. The central design issue in the ICCU is finding a strategy to promote tranquility and even relieve visual and acoustical isolation. So -called "ICU psychosis" is a shocking enough symptom of poor critical care design. In the case of an ICCU, noise and visual clutter have a readily demonstrable adverse effect on heart rates, arrhythmias, and blood pressure.
Respiratory Care and Step-Down Units
The respiratory care unit has developed as an alternative to the traditional ICU in response to the constraints of managed care and cost containment. Studies show that 35% of surgical and medical intensive care patients were admitted to these costly units strictly for the purposes of monitoring and did not require any active intervention. The patients were not suffering from any immediately life-threatening processes. The studies suggested a rationale for providing more cost- effective intermediate care units for those patients in need chiefly of close monitoring rather than aggressive intervention.
Cost savings are achieved in part through reduction in the amount and nature of required equipment and, in even larger part, through reduced staffing needs. Whereas the nurse to patient ratio in the ICU may be 1:2 or even 1:1, in the respiratory or step-down unit the ratio can safely be set at 1:3 or 1:4.
Critical Care of the Elderly
Until some time back, most buildings were standardized on the model of a thirty-year old healthy male user or occupant. Increasingly, however, architects and planners are designing for a seventy-year-old woman who is in less then optimum health. While no radical steps need to be taken to design special critical care facilities to accommodate older patients, certain design features can be incorporated into general ICU's to make them more friendly to the aged.
Gerontologists speak of an "environmental docility hypothesis", which holds that as competence decreases, the probability that behavior will be influenced by environmental factors increases. We know that critically ill patients often feel at the mercy of their environment. This seems to be even more compelling among the critically ill elderly.
Some of the design areas discussed earlier, especially noise control, light and color, are particularly important in designing with the elderly in mind. Noise reduction should be a high design priority. Because of diminished visual acuity in the elderly, lighting should be planned to avoid glare. This also means keeping highly reflective surfaces to a minimum. Color discrimination also deteriorates with age. Differentiating among dark shades and among pastels is a particular problem. Thoughtful use of contrast to emphasize planes and corners aids orientation. However, the elderly person should not feel dominated by the colors in his environment.
Neurological Intensive Care
An array of neurological conditions may require intensive care. Many of these conditions can be treated appropriately in the general surgical or medical ICU, but the monitoring and treatment of intracranial pressure (ICP) in particular has been cited by many authorities as ample rationale for creating specialized neurological intensive care units.
Probably the best model for the neurological ICU is the Intensive Coronary Care Unit (ICCU), which focuses on continuous and sophisticated monitoring in order to achieve early detection of developing problems. Increasingly sophisticated monitoring devices will have to be accommodated in neurological critical care, and these must be added to a full array of respiratory and ventilation equipment.
Perhaps the single greatest design impact of the neurological ICU is the issue of adjacency. It is desirable to locate this unit near such diagnostic facilities as MRI and CT.
Burns Unit
Another specialized intensive care facility found in larger, often regional hospitals, is the burns unit. Some hospitals, most notably the network run by the Shrine of North America (Shriners), are devoted entirely to the treatment and rehabilitation of burn victims.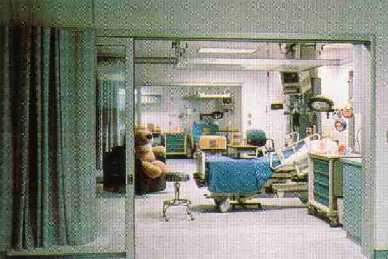 Shriners Hospital for Crippled Children / Galveston Burns Institute, Galveston, Texas (Architects: HDR, Inc.)
In this ICU for children, designers used muted colors and placed windows where possible. The radiant heat panels above the beds are linked to sensors on the patient – who because of the nature of the injuries lacks an insulating epidermal layer. The heating system compensates precisely for any heat loss. The hard finishing materials are hard to clean and thus minimize the possibility of bacterial infection.
For design, the single most important clinical factor in treating burns is creating structures that minimize the risk of infection. Burns unit critical care patient rooms should be private, rather than an open ward, to minimize the risk of cross-infection.
The ICU at Shriner's Hospital Galveston Burns Institute (HDR Inc. were the architects) features patient rooms that are fully enclosed with glass to allow maximum visibility while providing for isolation. The HVAC system was designed to surgical operating room standards, and positive air pressure as well as HEPA filtering promotes surgical suite air quality.
The Galveston ICU patient rooms also include radiant heat systems above each bed. These are linked to thermal sensors mounted on patients who lack an insulating epidermal layer, and, in this way, heat loss is perfectly compensated for by the radiant panels. Environmental control extends to the maintenance of high relative humidity as needed to help prevent damaged skin from drying out.
In addition to meeting the demanding clinical conditions required by the advanced treatment of severe burns, the burns unit ICU should project as much of a non-institutional sense of well-being as possible. Severe burn injury is not only physically painful, but is especially depressing and anxiety provoking. Patients suffering from disfiguring injury benefit from maintenance of contact with the outside world. Tragically, it is also the case that a great proportion of burn victims are children. The focus of the Shrine-sponsored institutions is pediatric. But all advanced burns units should be designed with the younger patient in mind.
The Issue of Isolation in Intensive Care Units
In discussing the burns ICU we have touched upon the issue of isolation to prevent infection. Patients admitted to an Intensive Care Unit have a higher risk of nosocomial infection than other hospitalized patients.
Most authorities believe that design for isolation is primarily a matter of ventilation, filtering, and maintaining positive air pressure in the patient room, for patients who are immuno-compromised. For patients who themselves are a source of infection, negative air pressure is maintained, other safeguards remaining the same. It is assumed that nursing the patient in a one-patient room with the door (or pair of doors with an air-lock lobby) closed is the best safeguard against infection in intensive care.
The Neonatal Intensive Care Unit
This is discussed in detail in a separate article in the same series.
Material used in this article may have been sourced from some or all of the following books. We strongly urge you to purchase those that are of interest to you in your pursuit of knowledge in the field of Healthcare Facility Planning and Design.
American Institute of Architects Academy of Architecture for Health with assistance from the U.S. Department of Health and Human Services, Guidelines for Design and Construction of Hospital and Health Care Facilities. Washington D.C.: The American Institute of Architects Press, 1996.
Cox, Anthony and Groves, Philip, Hospitals and Health-Care Facilities: A Design and Development Guide. London : Butterworth Architecture, 1990.
Hain, Walter, Laboratories: A Briefing and Design Guide. London : Chapman & Hall,  1995.
Kliment, Stephen A., Building Types Basics for Healthcare Facilities. New York : John Wiley & Sons Inc., 2000
Kunders,G.D., Gopinath S., and Katakam A., Hospitals : Planning, Design and Management.
New Delhi : Tata McGraw-Hill, 1998.
Miller, Richard L. and Swensson, Earl S., New Directions in Hospital and Healthcare Facility Design. New York : McGraw-Hill, Inc., 1995.
Putsep, Ervin, Modern Hospital. London : Lloyd-Luke Ltd., 1981.
Smith,  Judith  A.,  The  Family  Birthplace:  Planning  and  Designing  Today's  Obstetric
Facilities. USA : American Hospital Publishing Inc., 1995.